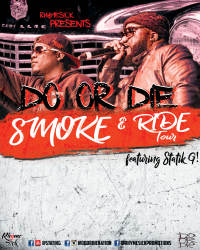 Strong Survive Proudly Presents
Do or Die
Time: 7:00pm Day: Friday Ages: All Ages / Bar with ID Price: $18
This Event Has Ended
Do or Die is an American rap trio originally from the East Garfield Park neighborhood on the West Side of Chicago, consisting of group members Belo Zero, N.A.R.D. and AK. The group experienced mainstream success with the platinum single "Po Pimp", which peaked at #22 on the Billboard Hot 100. Upon reuniting, Do or Die released several singles and new projects, [4] including "Loudpack" and "Do Yo Thang". The group also collaborated with French hip hop beatmaker Onraon his 2015 album Fundamentals on a track entitled "Over and Over" featuring Johnny P.
On April 15, 2015, Twista announced that he and Do or Die had completed work on a new collaborative EP together entitled Withdrawal (EP). The EP was released on May 19, 2015 and contains six tracks, including a single entitled "Aqua Fina", for which a video was released. In an interview with XXL shortly after the EP was released, Twista confirmed that there would be a follow-up EP entitled 'Withdrawal 2'.
On September 18, 2015 the group released Picture This 2. The album featured longtime collaborators Johnny P and Twista on several tracks as well as Rick Ross on the album's first single, "Love in the Sky".
On November 27, 2016, longtime Do or Die collaborator Johnny P died at age 44. While the exact cause of death is unknown, it was reported that Johnny P had been in a coma for several weeks until his death.